3DTouch™ 3D Printer (Single Head)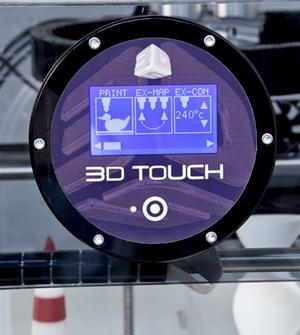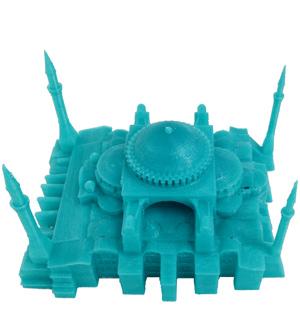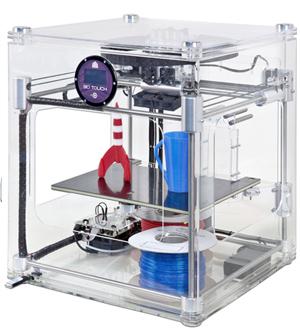 Make personal color manufacturing a reality with the 3DTouchTM Personal color 3D Printer. It is easy to set up and easy to use with a touch screen user interface, and is ideal for desktop 3D printing in the home, classroom and office. Create prototypes, models, RC parts, toys…the list is endless!
Dimensions (mm):
600 × 600 × 700
Availability:
Up to 6 weeks from receipt of payment
3DTouch™ 3D Printer - Single Head
Bring your 3D models and CAD drawings to life with the 3DTouch™ 3D printer. With its clear and open design and simple interface, the 3DTouch™ 3D printer is ideal for the home, classroom and office environment. Create prototypes, models, RC parts, toys…the list is endless!
BFB 3D printers are based on additive layer manufacturing (ALM) methods. Using thermoplastics, a BFB 3D printer heats the material through the extruder (or print head). The extruder then pushes out a very fine plastic thread which is applied layer by layer according to x and y co-ordinates, building a solid, 3D object.
Our newest, simplest 3D printer
Brand new touchscreen display and control panel.
Quick to set up out of the box.
USB storage and connectivity.
Perfect for the office, classroom or home environment.
Clear and open design.
Clean, tidy nozzle and purging area - easily removable.
Can be placed and operated anywhere (with power). Files are read from USB drive; no PC connection required.
Complemented by BFB Axon 2 software.
Purpose-written software easily converts your STL files ready for printing.
Friendly and familiar user interface.
Print complex geometries without compromise.
Large build platform enables a wider range of 'one-print' parts.
Multiple print heads enable multi-material prints - support material can simply be 'snapped off' (or dissolved away) resulting in a cleaner, more accurate finish.
Easy to use and maintain, no need for maintenance contracts.
One piece heater barrel allows easy material change.
Minimal set up and simple calibration process.
Simple and cost-effective machine upgrades.
Electronics configured to accommodate up to three heads - a single head machine can be easily upgraded to a two or three head unit affordably.
Free firmware upgrades - benefit from software developments at no extra cost.
Designed and engineered to be accurate and robust, yet simple.
Extremely rigid, durable frame providing excellent mechanical stiffness.
Increased z move speed and accuracy
Ultra-compact extruders deliver material with control and precision.
MAXIMUM BUILD SIZE

3DTouch™ Single head print

3DTouch™
Double head print

3DTouch™
Triple head print

X axis

275mm (10.75 inches)

230mm (9 inches)

185mm (7.3 inches)

y axis

275mm (10.75 inches)

275mm (10.75 inches)

275mm (10.75 inches)

z axis

201mm (7.9 inches)

201mm (7.9 inches)

201mm (7.9 inches)

Please note print size will vary from build size and is dependent on print material specifications

We recommend that you limit ABS prints to 100mm (x) by100mm (y) and PLA prints to 200mm (x) by 200mm (y). Larger prints may be accomplished within the constraints of the machine depending on geometry.

Z axis resolution

0.125mm (0.005" / 125 microns)

0.125mm (0.005" / 125 microns)

0.125mm (0.005" / 125 microns)

Print tolerance

x and y axis +/- 1% of object dimension or +/- 0.2mm (0.008" / 200 microns) whichever is greater

z axis +/- half the processed z resolution

Shrinkage and warpage can occur on models and is purely geometry dependent.

Print speed extruded volume

Maximum 15mm3 (⁹⁄₁₆th"3 ) per second print and polymer dependent

Power requirements

110 - 240v AC

Approximate weight

36kg (79 Lbs.)

37kg (81.5 Lbs.)

38kg (84 Lbs.)

Overall dimensions

515mm (w) x 515mm (l) x 598mm (h) (20 ¼" x 20 ¼" x 23 ½" inches)

Maximum operating temperature at extruder tip

280oC (536oF)

Support material

PLA / ABS / Soluble Clear translucent PLA

Support removal

Break away support material with pliers and cutters or just fingers where appropriate. Clear translucent PLA is soluble in a sodium hydroxide solution used with a heated ultrasonic tank - care is required with this option.
The 3DTouch™ single head 3D printer usually takes around an hour to set up. This is quite similar to what you need to do with any kind of 'normal' printer – unbox, remove all protective packaging and unlock the moving components which were secured during transit. There is some minor levelling and calibration involved and of course, it's a good idea to download the Axon 2 conversion suite from the supplied memory device.

NB: As part of quality control and machine calibration the printers are tested for approximately 10 hours, evidence of this is visable on the print bed. Prior to packing the machine for shipment some of the models are removed. Marking on the surface of the bed is a normal part of the print removal, this does not affect the printer's performance.
All BFB 3D printers include complimentary Axon 2 conversion software. This application converts your 3D model into layered slices (G-code), ready for printing on your machine. Other features and uses of Axon 2 include:
Clear, familiar and easy to use interface
Scaling, rotation and movement of parts on a simulated print bed
Proven default settings for all BFB 3D printers
Ability to create custom profiles as needed
Imperial / metric conversion available
Combined part and toolpath viewer
Built-in STL file verification
Profiles for multiple material / support material
Software upgrades can be downloaded from the BFB Technical Resources hub.
3DTouch™ single head 3D printer
Tool kit
Memory device with sample print files, Axon 2 and Set-up Manual
Clear nozzle box
Power adaptor
Unpacking instructions